The Shaukeens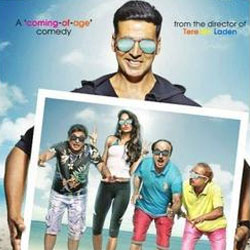 | | |
| --- | --- |
| DIRECTED BY | Abhishek Sharma |
| PRODUCED BY | Ashvin Varde, Murad Khetani, Akshay Kumar, Trilogic Digital Media Ltd. |
| STARCAST | Akshay Kumar, Annu Kapoor, Piyush Mishra, Lisa Haydon, Anupam Kher |
| Music By | Yo Yo Honey Singh, Hard Kaur, Vikram Nagi, Arko Pravo Mukherjee |
| Release Year | 2014 |
SYNOPSIS
Laali (Anupam Kher), Pinky (Piyush Mishra) and KD (Annu Kapoor) - three men in their 60s - are childhood friends. They've spent all their lives in Delhi and despite their age, the temptation of youth continues to chase them.
Bored of their mundane routines and unexciting lifestyles, the three friends finally decide to bring back the spark in their lives when they plan to go to the exotic land of Mauritius for an unadulterated holiday.
The story then moves to Mauritius where the three friends encounter the beautiful Ahana (Lisa Haydon). Ahana is a free-spirited girl who finds the three old men very interesting. Just when the three friends believe their dreams are about to come true, a major obstacle comes their way in the form of Bollywood superstar Akshay Kumar.
Akshay Kumar lands in Mauritius and everything changes. The three old men find all chances slipping away from their hands as Ahana shifts her attention to the Bollywood megastar. In the gorgeous land of Mauritius, speckled amidst lush beaches and prime landscapes, the show of one-upmanship begins. The Shaukeens is an uproarious comedy that offers a roller coaster ride with Mauritius as its delectable backdrop.